"We are a small boat that goes against the current in the storm, but we have a duty to keep the bar straight.
We did not hide the difficulties and did not give false illusions, saying clearly that our goal was to use the elections to strengthen and build the Party" writes, among other things,

a statement of the Communist Party of Italy

(Partito Comunista) regarding the results of March 4th elections.
The Communist Party, which gave a brave electoral fight under difficult circumstances, gained approximately 100,000 votes which, in percentage terms is 0.35%. On that point, it must be mentioned that the Party had presence with
lists in 57% of the colleges in the Chamber and in 59% in the Senate.
According to Partito Comunista, the outcome of the elections confirms the correctness of the Party's analysis regarding the role of the left all these years. The betrayal of the working class and popular strata by the Democratic Party (Partito Democratico) led to the electoral punishment of PD, but indiscriminately affected all left forces.
The so-called "protest vote", points out the Communist Party, "is not channeled to the parties to the left of the Democratic Party, but goes to the Five Star Movement and the Northern League".
As the Communist Party's statement mentions, the issues of immigration, security, of the struggle against politics prevail within the common feeling today. "It is not the prospect of the conquest (achievement) of new rights", says the statement, "but the fear of falling into an even worse condition" which weights on the people's common feeling.
Better results could have been obtained "if other communist forces had accepted the Communist Party's call for serious political discussion" writes the statement of Partito Comunista, adding that a broader united coalition of communists could have achieved more. However, the Communist Party intends to insist towards the opening of a debate with supporters who have supported the Party during the previous period.
"Our real goal" says the statement of Partito Comunista "is to turn those 100,000 votes (and others who couldn't vote the Party due to absense of candidates in their constituencies) in Party supporters". Towards this path, the Communist Party will work to increase its power in workplaces, factories, schools, neighborhoods, as well as to strengthen the party organizations in order to promote and advance the aim of the communist reconstruction in Italy.
The statement of the Communist Party (Italiano)
Prime considerazioni sull'esito elezioni
L'esito delle elezioni testimonia la correttezza della nostra analisi generale sul ruolo della sinistra in questi anni. Il tradimento portato avanti a danno dei lavoratori e delle classi popolari punisce il Partito Democratico, ma trascina con sé indistintamente tutte le forze di sinistra. La geografia del voto dimostra che non esistono più le regioni "rosse", che nel complesso la sinistra è travolta da un'ondata di voto di protesta, che aumenta nelle regioni del meridione, e tra gli strati sociali popolari.
Le vicende storiche dell'evoluzione della sinistra italiana, in un contesto di forte dominio mediatico e diminuzione del radicamento territoriale finiscono per colpire indistintamente tutte le forze che ad essa vengono associate. Anche chi come noi non ha nulla da spartire con il PD e che anzi, si pone in netta e insanabile contrapposizione con le sue politiche, esce colpito da questa valanga. Il voto di protesta, salvo che in piccoli settori più determinati e militanti, non si canalizza nei partiti a sinistra del PD, ma si dirige verso il Movimento Cinque Stelle e la Lega Nord.
Queste elezioni non fanno che certificare quel dato diffuso che ben conosciamo nelle masse. I temi dell'immigrazione, della sicurezza, della lotta contro la politica, prevalgono oggi nel sentire comune, anche e soprattutto delle classi popolari, su quelli del lavoro, dei diritti sociali. Non è la prospettiva della conquista di nuovi diritti, ma il timore di precipitare in una condizione ancora peggiore a pesare nel sentire comune. Non è la lotta di classe, ma una strisciante guerra tra poveri l'orizzonte che si percepisce come attuale.
Non potrebbe essere altrimenti, dal momento che la sinistra ha fatto di tutto per dismettere la propria base sociale, il proprio radicamento, mutando il proprio fine ultimo. Rovesciare questa percezione è un lavoro lungo, che si può ottenere solo con una presenza continua e coerente.
La sconfitta del PD è enorme e travolge con sé Liberi e Uguali, che a stento supera la soglia di sbarramento. Il gruppo dirigente che ha guidato lo scioglimento del PCI, che ha controllato la maggioranza del principale sindacato italiano, che è stato asse centrale dei governi di centrosinistra degli scorsi due decenni, ottiene un pugno di seggi. Le forze di sinistra nel loro complesso sono all'anno zero. Pap che nelle ultime settimane si auto-promuoveva vicina al 3% dei consensi ottiene l'1%.
In questo quadro saremmo disonesti a parlare di risultati diversi dalle nostre aspettative per quanto riguarda il Partito Comunista. Siamo una piccola barca che va controcorrente nella tempesta, ma abbiamo il dovere di tenere dritta la barra. Non abbiamo nascosto le difficoltà e non abbiamo dato false illusioni, dicendo chiaramente che il nostro obiettivo era utilizzare le elezioni per il rafforzamento e la costruzione del Partito, senza illudere nessuno circa un'improbabile ingresso nelle istituzioni.
Il risultato raggiunto è esattamente quello che ci aspettavamo. Ci eravamo dati come obiettivo quello di 100.000 voti a livello nazionale. Questo obiettivo, seppur magro e iniziale, possiamo dire – anche a dati non ancora definitivi – sia stato raggiunto e superato.
Il risultato in termini percentuali (0,35%) è un falso indicatore, poiché riflette la presenza delle liste del Partito solamente nel 57% (36 su 63) dei collegi alla Camera e nel 59% (19 su 32) al Senato.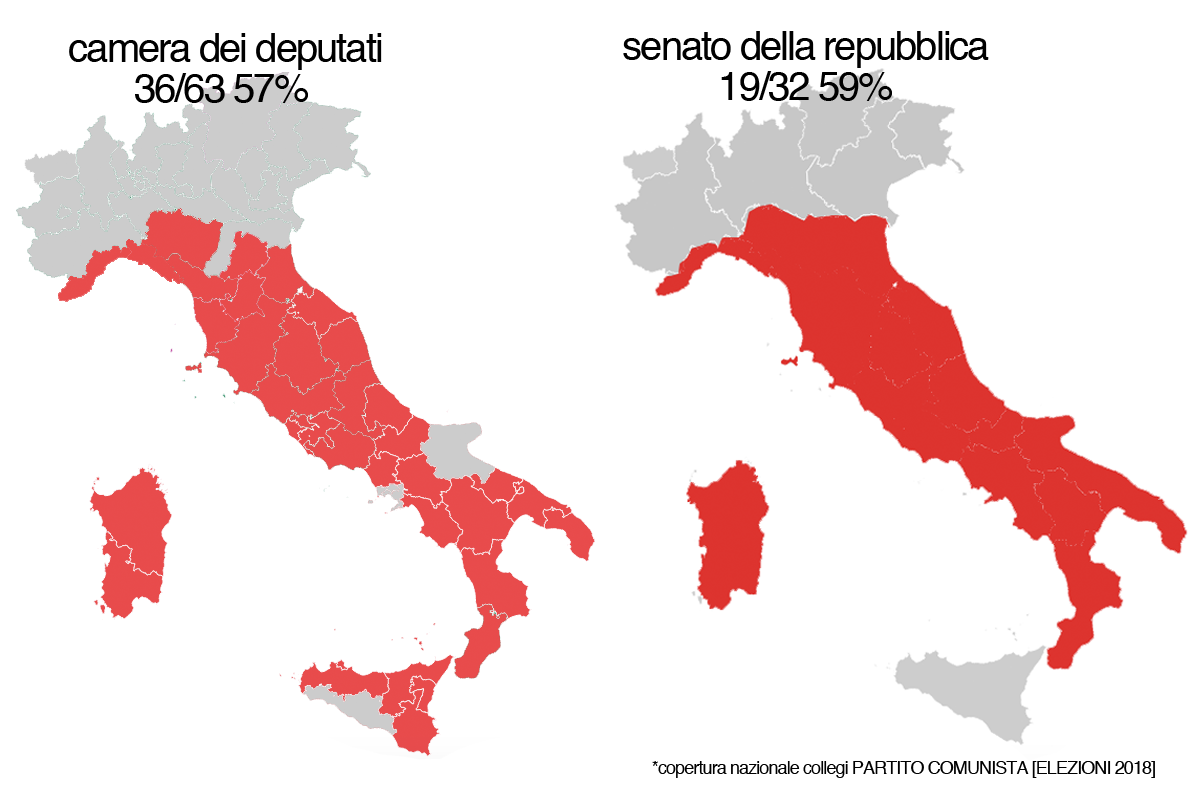 Nel complesso dei collegi dove il partito è presente il risultato è dello 0,65%, con punte dell'1% in Toscana e Emilia, e evidenzia un radicamento in crescita nelle aree proletarie. Un risultato comunque magro, ma non sensibilmente differente da quello ottenuto da chi ha perseguito altre strade a sinistra, che ha tratto anche beneficio diretto dalla nostra assenza in molti collegi, assenza senza quale Pap probabilmente non avrebbe raggiunto l'1% nazionale (il loro dato nazionale è sul 100% di copertura dei collegi).
Risultati maggiori si sarebbero potuti ottenere se altre forze comunista avessero accolto l'invito del Partito Comunista ad una seria discussione politica e alla ricerca di un'unità anche in vista delle elezioni, senza preferire lo scioglimento in un contenitore genericamente di sinistra. I comunisti uniti avrebbero ottenuto senza dubbio di più. Su questa strada noi intendiamo insistere per continuare ad aprire un dibattito concreto con quei tanti compagni che ci hanno sostenuto in questi mesi.
Come avevamo più volte detto queste elezioni servivano a affermare la presenza del Partito, a intercettare quei settori di avanguardia dei lavoratori e delle classi popolari riuscendo a legare a noi più forze e organizzarle. Questo obiettivo è stato raggiunto.
Non era scontato con questa legge elettorale neanche riuscire ad essere presenti in un numero apprezzabile di collegi. Il Partito discuterà a livello nazionale e locale, delle proprie carenze – specialmente nelle regioni dove non siamo stati presenti sulla scheda elettorale – trovando il modo di fare in questi mesi ulteriori passi in avanti, di fare tesoro degli errori per fortificare la propria struttura, e il proprio radicamento.
Nostro obiettivo concreto è trasformare quei 100.000 voti – e i molti in più che non ci hanno potuto votare per assenza nei loro collegi – in sostenitori del Partito. Aumentare i nostri militanti nelle fabbriche, nei luoghi di lavoro, nelle scuole. Rafforzare insieme al Fronte della Gioventù Comunista le strutture e le organizzazioni necessarie per far avanzare concretamente la ricostruzione comunista in Italia e le lotte.
Un'ultima considerazione merita il risultato dell'estrema destra. Anche qui il voto non si è distaccato dalle nostre previsioni. La destra neofascista non solo non entra in Parlamento ma non supera neanche l'1% dei voti, dato considerato già raggiunto secondo tutti i sondaggi. Questo nonostante l'incredibile propaganda mediatica fatta dal PD e da tutta la sinistra, che ha ulteriormente gonfiato un dato che sarebbe stato ancora più magro. Il peso effettivo che questi movimenti hanno avuto nel periodo della campagna elettorale e il clamore mediatico di cui hanno beneficiato, devono farci riflettere. L'antifascismo senza strategia politica, e quello elettorale del PD fanno solo pubblicità ai fascisti.