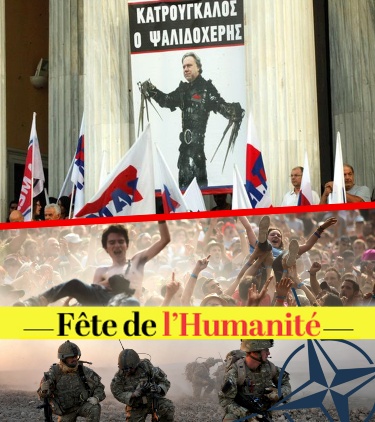 The downward spiral of European opportunism has no end.
Comment published on 'Rizospastis' (24/9/2016), 
Source: inter.kke.gr.
It is well-known that European capital and its union, the EU, have acquired for many years now its "leftwing chorus". Various parties are playing this role, parties that call themselves "progressive" and "leftwing" even some parties that keep a "communist" title, having for many decades now been assimilated into the opportunist, social-democratic current of "Eurocommunism". 
The latter, such as, for example the 

French Communist Party

 (PCF) have for many years been divorced from Marxism-Leninism and proletarian internationalism, have even abandoned the historic symbols of the communist movement and in the name of the "left' have become the "tail" of social-democracy and also whitewash the capitalist system and the imperialist unions of the EU and NATO. However, they keep the "communist" name and in this way, apart from their misleading activity in their own countries, even participate in the International Meetings of the CPs, seeking to play a similar role. If we can judge from the events of the recent festival of "L'Humanite", the newspaper of the PCF, the downward spiral has no end.