President

Nicolas Maduro

won the Venezuelan presidential

elections

Sunday, gaining a second presidential term for six years with more than

5.8 million votes

, the

National Electoral Council

(CNE) announced Sunday night.
With 92.6 percent of the votes counted, Maduro had 5.8 million votes, while his closest rival, former governor

Henri Falcón

getting 1.8 million votes, said

CNE

President

Tibisay Lucena

who added that in total, 8.6 million Venezuelans voted, out of an electoral registry of 20.5 million people.
"We are the force of history turned into popular victory," Maduro told his supporters after the CNE announcement. "Thank you to facing so many aggressions and lies, thank you for overcoming it, and for making me president of
Venezuela
for the next term."
The president further thanked the Venezuelan people for their support and voting him into a second term with 68 percent of the vote. "The people in Venezuela have to be respected." "
The revolution is here to stay!" Maduro later told the crowd, promising to prioritize the country's economy and socioeconomic development during his new term and fight off "imperialism" from the external forces, which tried to derail the country's election.
"I demand the respect for all of the Venezuelan People. I'm the president of all of the Venezuelans. I call for a dialogue process. Permanent dialogue is what Venezuela needs."
As results came out, Maduro supporters let off fireworks in poor

Caracas

neighborhoods and danced to Latin pop around the downtown

Miraflores

presidential palace. He took 5.8 million votes, versus 1.8 for his nearest rival Henri Falcon, the board said.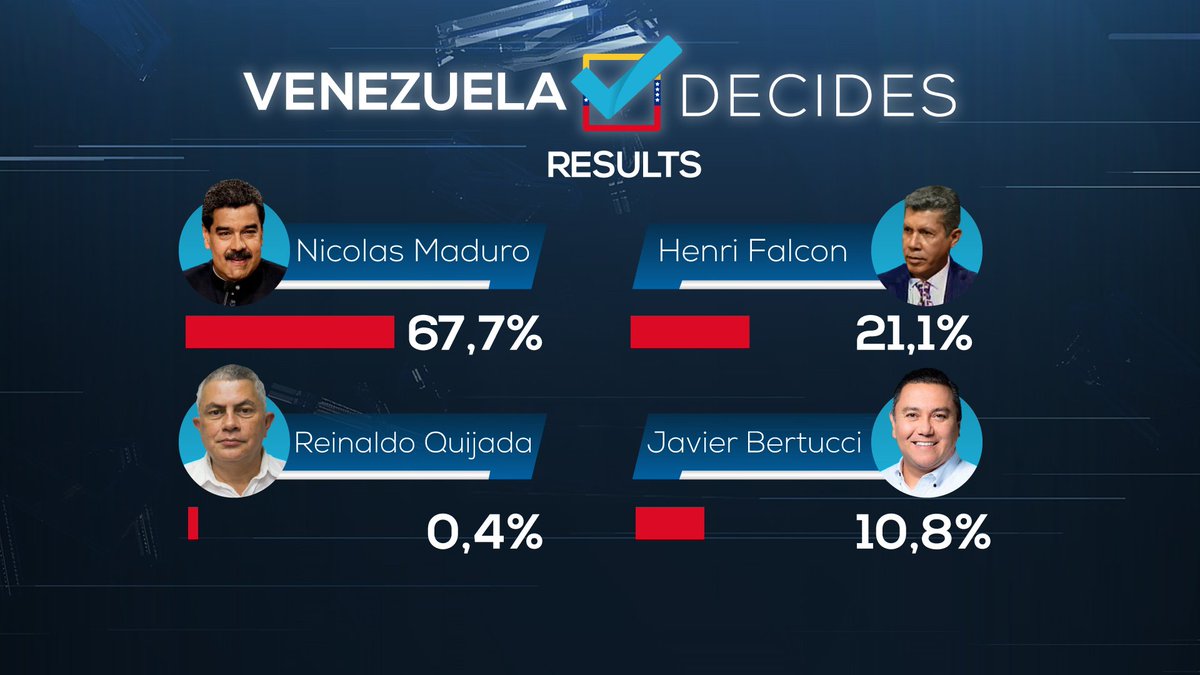 "I want to congratulate the

revolutionary youth

in Venezuela and all

social movements

in Venezuela for this victory," Maduro said. "I look to the future, and I propose to all the leaders of the opposition to meet and talk about Venezuela. Democratically, let's resolve Venezuela's problems."
Maduro's main electoral opposition was Henri Falcon, who had promised to convert Venezuela's currency to the U.S.-dollar.
In the hour before the results were announced, Falcon said that he wasn't going to recognize the results, that they were "illegitimate." He blamed abstentionist sectors of the opposition for his loss, and called for new elections to be called for October.
"The

Bolivarian

and

Chavista

community has demonstrated once again it's determination in defending the legacy of Chavez, who you represent worthily," President

Miguel Diaz-Canel

Bermudez said in a letter addressed to Maduro.
Diaz-Canel added that the Cuban Government will be supportive and offer solidarity regarding any new challenges faced by Maduro's Government in the new six-year presidential term.
Former President and

Cuban Communist Party

chief

Raul Castro

Ruz also congratulated Maduro on victory in the Venezuelan presidential elections.