Miguel Díaz-Canel, first vice president of Cuba's Councils of State and Ministers gave a speech during the ceremony marking the 50th anniversary of the death of Che and his compañero.
It is with great emotion that we gather here at this sacred place of the homeland to pay tribute to the protagonists of one of the most important internationalist exploits, an example of the struggle for the liberation of peoples subjected to imperialism. Today, the feat undertaken by Comandante Ernesto Guevara and a small but brave army during an 11 month campaign in Bolivia, moves tender-hearted men and women across the world, stated Party Political Bureau member and First Vice President of Cuba's Councils of Sate and Ministers, Miguel Díaz Canel- Bermúdez.
Recalling the landscapes where he struggled between life and death, firm in his redemptive commitment, proves to us his altruism, the depth of his convictions, his legacy, his revolutionary and internationalist dimension, he added.
"Today we commemorate the 50th anniversary of his fall in battle, on October 8, 1967. Without surrendering, after putting up a heroic resistance, wounded and his gun rendered useless, he was able to be captured.
His captors cared nothing for the dignity and etiquette his revolutionary legacy demanded, and was vilely murdered; but history only remembers the cowardice of those murderers, while the colossal example of Che lives on and multiples day after day," noted the Cuban official.
Díaz-Canel went on to recall that on announcing the bitter and painful new of Che's death to the people of Cuba, Fidel described him as the most extraordinary of our compañeros of the Revolution.
In addition to his qualities as a revolutionary, the Party Political Bureau member also spoke about his convictions and values, forged in the struggle, which would see him become an exceptional revolutionary, and a special man with a very unique outlook on life.
Fidel, Raúl, Almeida, Camilo, Ramiro, and other compañeros from during and after the guerilla struggle, as well as the Cuban people, saw and recognized in Ernesto his simplicity, sincerity, camaraderie, his reckless willingness to do the most difficult tasks, his prestige as a leader, teacher and artist of the revolutionary war; tireless in his commitment and willingness to struggle until victory or death, for the freedom of the peoples, stated the Cuban official in his remarks.
Che hasn't died like his murderers wanted, his figure continues to grow with time as new generations of Cubans - raised under his example and that of his legacy - discover, recognize and assume his paradigm as a revolutionary.
They make his eternal call to the sanctity of study, work and fulfilling one's duty, their own. His example of an altruistic man becomes an ideal to follow, noted Diaz-Canel, who went on to explain that as a leader and Minister, Che was able to apply new management methods to the industry sector, while his example and rigorous system of control and discipline instilled commitment in his subordinates.
He also constantly encouraged the professional development of workers and cadres. He created factories and also trained revolutionaries.
He was a tireless seeker of truth and reason in order to advance in the construction of socialism. As well as a director and guerilla, he was also a revolutionary thinker, a humanist, an intellectual who understood the need to reflect on the Revolution, socialism, society, and the Cuban people, noted the official.
"He appears in our history as a hero of the Granma expedition, the Sierra, the invasion and battle of Santa Clara, as one of our most illustrious and sacred leaders, as well as a chronicler and researcher of history, because he understood that history is a great teacher."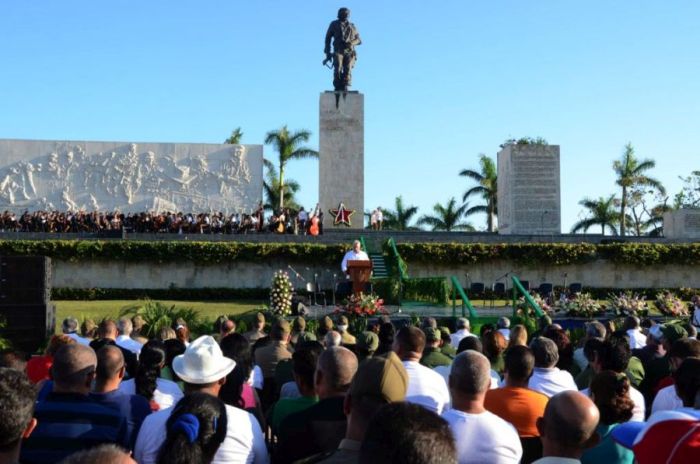 Che warned us that the present cannot become a return to the past and that in order to construct the future we must always remain united, he added.
It is true, noted Díaz-Canel, that today Che is a moral giant for people of different ages and for youth across the world who find in his unwavering example, his sense of honor and dignity, in the bravery and austerity that characterize him, the inspiration to build a better world.
"This is why Fidel, in the solemn wake held in honor of his death, described Che as a true model of a revolutionary, as a new man to which we must aspire."
What we cannot allow is for this idea to turn into an empty phrase, into a simple repeating of words; it must be assumed through commitment, through inspiration, through conviction.
We must give true substance to the call to be like him, in order to be able to face all life's challenges, stated the Cuban official.
We grew up knowing that he had been murdered, of his heroic death, constantly fighting, dignified and firm before his captors, with his last thought for Fidel and this people that love him like a son and who didn't know where he was but held the hope that one day he would return, stated Díaz-Canel.
"And he did return, after an intense poignant search by a formidable team of scientists. His remains were found and brought to the homeland on July 12, 1997."
The Cuban vice president also recalled the words of Che's daughter, Aleidita and of Fidel at that time, when his remains and those of his compañeros were laid to rest in the Plaza, 20 years ago.
He continued, stating that we are living in a world full of contradictions and uncertainties, at a time characterized by growing threats to peace, when powerful interests of domination predominate, the survival of the human species is under threat, an unjust and exclusionary economic order exists. It is in this current state of crisis that neoliberal capitalism is attempting to expand and turn the values of the people into something out-dated and unnecessary.
What is happening in Latin America is an example of these colonizing processes and in our case an expression of the marked interest in political and economic re-conquest, opening the door to brutal capitalism, stated the Party Political Bureau member.
Political interests in the sister Republic of Venezuela are attempting to prevent Venezuelans from freely exercising their right to self-determination, with the United States applying unjust sanctions.
However, faithful to our internationalist vocation, we once again reaffirm Cuba's support for the Bolivarian and Chavista people and the government led by Nicolás Maduro, he stated.
"All together, these events are clear proof of what Che said when he explained that imperialism cannot be trusted, even a bit."
Loyal to his legacy and to Fidel, we reaffirm that Cuba will not make concessions inherent to its sovereignty or independence, nor will it negotiate its principles or accept conditions, as changes are decided by the Cuban people, he noted.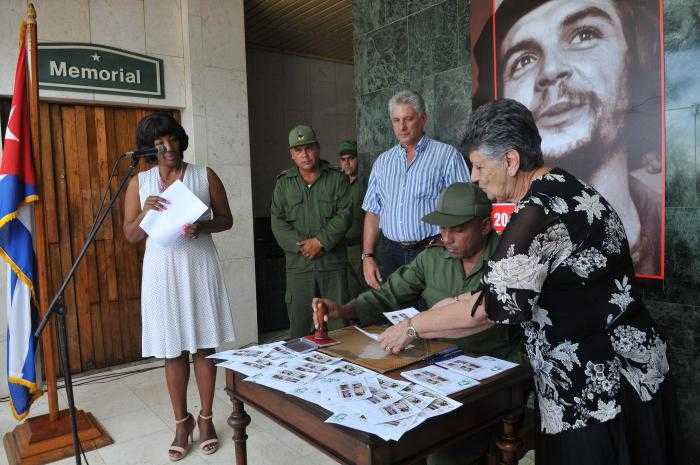 Diaz-Canel also recalled that this traditional tribute is being held for the first time without the physical presence of Fidel.
Fidel and Che will always be present because as two individuals who share the same ideals, their profound knowledge of the ills of the world, rebelliousness, anti-imperialist and pro-Latin American stance, make them robust and unbreakable examples to guide the battles of these times; the battles for sovereignty and peace, for social justice, for true emancipation and for socialism, stated Díaz-Canel.
As such, he added the Cuban people's response to Hurricane Irma and the following recovery phase are a proof of the legacy of their examples and values.
Here, today, from the historic Plaza and Memorial, a space to express our commitment and to honor with our results, a must-visit site for those who believe in, aspire to and struggle for a better world, we can affirm that an example can multiply wills and that the future belongs to us, he stated.